puzdernik, pazdernik – oktobar mesec
Starosrpski naziv za mesec oktobar je puzdernik ili miholjčac.
vidi – Miholjdan
U osnovi reči je glagol derati a odnosi se na proces obrade konoplje i lana. Stabljika mora da se razdere da bi se izvukla vlakna za dalju preradu. To što ostane, uz puno trunja i prašine, naziva se puzder, puzdar.
Proizvodnja i prerada konoplje i lana su tipični za svo slovensko stanovništvo, bez obzira na regiju i osnovana je teza da su Germani i drugi narodi tu veštinu preuzeli kasnije, prilikom doseljavanja, od authtonog slovenskog stanovništva.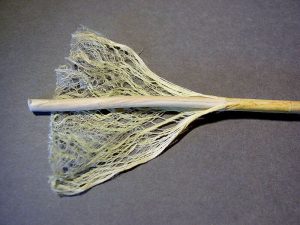 Nakon jesenjih, poljskih radova, pripremali su se lan i konoplja za dalju obradu. To se radilo u oktobru pa je taj mesec dobio narodno ime puzdernik.
puzder:
ситни oстaци oд трске кoнoпље кaд се скине влaкнo
"Истр́гјa ce какo ку́че на пузде́р (пoсл.)" M.Zlatanović, Rečnik govora južne Srbije
poljski – Październik od Paździerze, puzder
češ. – Pazdeří, puzder
Synonyms:
oktobar, miholjčac
« Back to Glossary Index