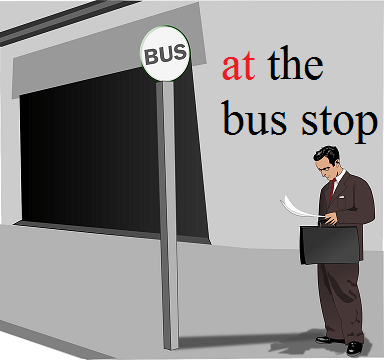 Engleski predlozi mesto radnje
Engleski predlozi koji definišu mesto, radnje, lokaciju – Prepositions of Place
Kada je tema predlozi za mesto radnje u engleskom jeziku, najčešće se govori o ova tri predloga:
at – na, kod, za(stolom) tačna pozicija
in – u
on  – na
Napomena: engleski predlozi in, at, on ,  mogu se koristiti i kod defenisanja vremena: in the morning,  at night, on Monday.

– Pozicija predloga u engleskoj rečenici
Predlozi u engleskoj rečenici ispred imenice ili zamenice, nikad ispred glagola.
Kako je ova kategorija predloga definisana na sajtu perfect-english-grammar.com:
Engleski predlozi koji definišu mesto – in, on, at
Ako je nešto u kutiji ili nekom drugom većem zatvorenom ili širokom prostoru onda koristimo in.
in a cup
in a bottle
in bed
in London
Ako je nešto u liniji ili horizontalnoj ili vertikalnoj površini, koristimo on.
on my face
on the page
on a chair
on the river
Ako je nešto u nekoj tački dešavanja, recimo zgradi, svim vrstama građevinskih objekata (uglavnom) koristimo at.
at the airport
at the table
at the cinema
at the bottom
at the top
at the table
at the door
Upotreba engleskih predloga ne prati logički upotredu predloga za mesto u našem jeziku i tu se ne može pomoći mnogo samo objašnjenjima, potrebna je vežba, osećaj. Naročito je veliki problem kod razlikovanja on i at.
Hajde malo da vežbamo, osećaj se brzo stekne: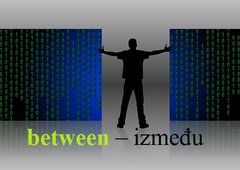 Engleski predlozi za mesto radnje – lista
by – kod
near – blizu
above – iznad
below – ispod
over – preko
under – ispod
up – gore
down – dole
around – oko, okolo
through – kroz
inside – unutar
outside (of)– izvan
between – između
beside – pored
beyond – izvan iznad
in front of – ispred
in back of – iza, pozadi
behind – iza
next to – pored
among – između, među (obično više njih)
along – duž
against – protiv
Još malo vežbica:
vežba br.3
vežba br.4
vežba br.5 zgodna je za vizuelno pamćenje korišćenja ovih predloga
Pročitaj i : Engleski glas č piše se obično ch, ne uvek – primeri