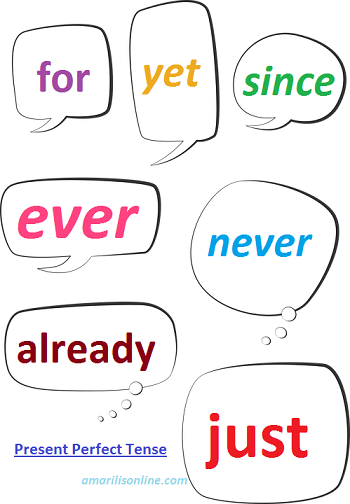 Present Perfect Tense Simple
Pravila za građenje Present Perfect :
Perfekt, svršena vremena u engleskom su složena = pomoćni glagol + past particip glavnog glagola ( glagol + ed ili 3 kolona, lista nepravilnig glagola)
Perfekt vremena koriste pomoćni glagol have
Perfekt present = pomoćni glagol have je u prezentu
Markeri – reči koje nam ukazuju na upotrebu Present Perfect Tense
Since, for, ever, never, just,  yet,  already, recently, so far, till now, up to now
Pravilo: Ako ne  znamo kada se nešto desilo u prošlosti, nema odrednice, juče, prekjuče, pre 5 minuta, pre 3 godine – Present Perfect Tense
Tabela

| | |
| --- | --- |
| Positive | Positive Short Form |
| I have played | I've played |
| you have worked | you've worked |
| he has written | he's written |
| she has walked | she's walked |
| it has rained | it's rained |
| we have travelled | we've travelled |
| they have studied | they've studied |
Sve upitne, negativne kao i kratke oblike pogledajte ovde. To je sajt koji svako treba koristiti.
Present Perfect Tense upotreba:
I – Unfinished Actions, nešto što je započelo i još traje
Konkretno:
How long?
Since, for ten years, …
Koliko dugo traje nešto što je započelo u prošlosti i traje do dana današnjeg, nezavršena radnja.
I've worked here for six months.
Pravilo:
ako pričamo o jednom trenutku u prošlosti , od tada, trenutak u vremenu, bilo da je u pitanju neki vremeneski period: od 2002 ili opis, od kad sam se preselila, koristimo Peresnt Perfect Tense
I've known Sam since 1992.
Ako pričamo o određenom o konkretnom vremenskom periodu  i navodimo ga , koristimo for
I've known Julie for ten years.
Vremenski period koji još traje: ove nedelje, danas, ovog semestra
Today, this week, this year, …
II – Finished Actions, obavljeni posao, akcija, radnja u prošlosti ali se ne zna kada a i nije bitno.
 Konkretno:
Kada pričamo o životnom iskustvu, nešto što smo nekada ili nikada radili, nikad nisam bila u Londonu. (od kada sam se rodila do dana današnjeg).
Ever, never
We have never seen that film.
Sa nezavršenim prilozima za vreme, this month, this week, today; nisam je videla ove nedelje, od kako je počela nedalja do dana današnjeg.
I haven't seen her this month.
A finished action with a result in the present, nešto što se desilo u prošlosti a utiče na sadašnji trenutak, rezultat, posledica:
Izgubila sam ključeve (sad ne mogu da uđem u kuću).
I've lost my keys (so I can't get into my house).
Pravilo:
When, kada  , yesterday

– ovo su zabranjene reči  za Present Perfect Tense.  Ako želimo da znamo ili je važno kada se nešto desilo u prošlosti i dajemo konkretan odgovor:  juče, pre dva dana sam izgubila ključeve to je znak za Past Simple Tense.
Just, yet,  already, recently – nešto upravo, baš, već,  još, nedavno
I've just seen Lucy.
Upravo, baš, nedavno, samo što sam je videla  ili yet ako je negativno – još je nisam videla.