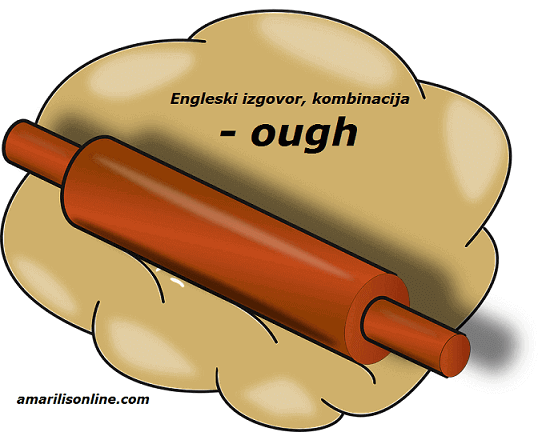 Engleski čitanje ough grupe slova na 6 načina, lekcija br 7
– ough, kombinacija slova u engleskom jeziku
– ough je veoma prisutna slovna grupa u engleskim rečima. Trik ili problem je u tome što se izgovara na različite načine.
Ne postoji neko posebno pravilo za razlikovanje izgovora ove slovne grupe. Klasifikacija sa primerima izgovora je najbolji način za upoznavanje sa ovom temom.

Čitanje i pisanje engleskog jezika se zasniva  na ponavljanju i vežbanju. Ovaj pregled samo potvrđuje da je zaista potrebno vežbanje i ponavljanje a da logika i pravila u engleskom pravopisu ne predstavljaju važnu stavku.
Ipak, upoznavanje sa svim prisutnim varijacijama može biti samo korisno.
Pregled po stavkama izgovora kombinacije slova – ough u engleskom jeziku:
dough, izgovor though, although, and thorough
U ovim primerima – ough se izgovara kao dugo o sa u na kraju, kao u glagolu know
through, izgovor throughout,
reč za poređenje izgovora je true, dugo u
cough, link, trough, korito
vrlo interesatan izgovor – ough u ovim rečima, of kao u reči off (away)
ought, thought, bought, brought, fought.
ough se u ovim rečima izgovara kao o, primer link
bough, plough, and drought
au je izgovor grupe – ough u ovim rečima primer  kao u reči now
tough, rough,  enough.
ough se izgovara af kao u reči stuff primer
Pročitaj: Nemo -g, nemo -p, engleski pravila čitanja
Tabela primeri izgovora – ough
| | | |
| --- | --- | --- |
| 1. | though | ou |
| 2. | through | dugo u |
| 3. | cough | of |
| 4. | ought | o |
| 5. | plough | au |
| 6. | enough | af |