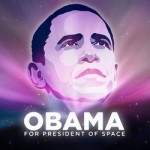 Ovih dana stalno nailazim na jednu simpatičnu temu na netu (možda simpatično nije pravi epitet, ali ja to tako doživljavam).
A tema tj. dilema je sledeća: Kada će (ne da li će !!, pošto je to već gotova stvar, prema informacijama od pouzdanih insajdera) Barak Obama objaviti svetu da su vanzemaljci odavno medju nama.
Ta informacija da su vanzemaljci medju nama, ili da je kontakt ostvaren, šta god da je, po meni OK. Još otkako je legendarni Artur Klark dao svoju još legendarniju izjavu – opcije da smo sami ili da nismo sami u svemiru su podjednako užasavajuće – odabrala sam užasavajući opciju da nismo sami.
I zato jedva čekam da nam se predsednik Obama obrati po tom pitanju.
Prema pomenutim insajderima to će se desiti ili u decembru ove godine ili početkom sledeće, u svakom slučaju do kraja zime.
E sad simpatičan deo.
1. Barak Obama je dobio Nobelovu nagradu da bi smogao snage da svetu objavi pomenutu istinu.
2. Odluka da se istina iznese na videlo je posledica propale reforme američkog zdravstvenog osiguranja.
Svejedno, koja god da od ove dve opcije prevlada kao motiv, jedino što mi smeta što to svetu neće objaviti naš Mirko Cvetković. Pošto je pomenuti gospodin već postao prvak sveta u kuliranju svih mogućih tema, problema i ostalog, verujem da je stanje njegove nirvane dostiglo potreban nivo za komunikaciju sa drugim svetovima i dimenzijama.